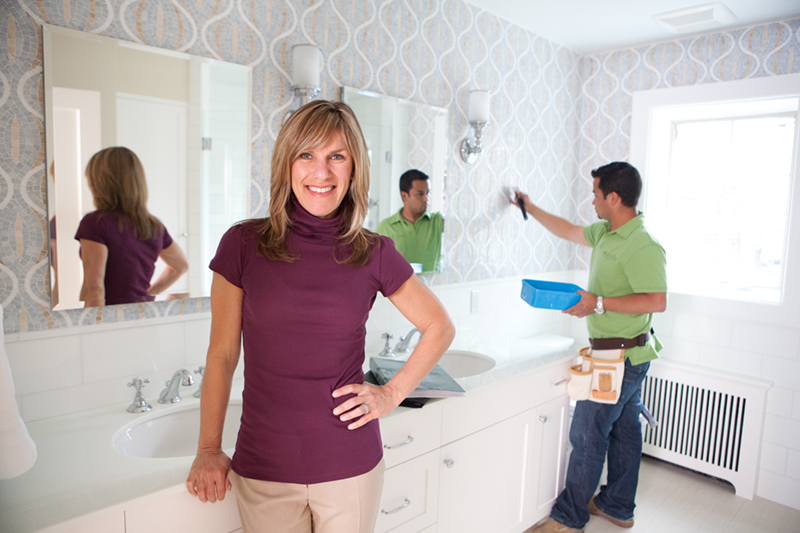 The Blueprints
After the purchase of their first home, Cohen and her husband soon discovered how difficult it was to find reliable home improvement contractors. Working a 40-hour week left little time to search for names of trustworthy painters, plumbers and carpenters. It occurred to Cohen that if she was having difficulty, other new homeowners must face the same challenge and that's when inspiration struck.
Cohen conceptualized a homeowner referral business that would not only be a referral source for busy homeowners but would also help busy contractors by serving as an outsourced sales and marketing force for their business. A networker by nature, when Cohen found a dependable and qualified contractor, she felt compelled to share his name with neighbors and friends. And, contractors–busy with the day-to-day aspects of running their businesses–were thrilled to receive new job leads.
Construction
After extensive conversations with lawyers, insurance agents, contractors and business consultants Cohen launched Home Remedies® of NY, Inc. a Homeowner Referral Network (HRN®) for homeowners in her community. Her first promotion was a direct mail card and magnet to a targeted list of homes in her area and within three days the phone began to ring with requests for pest control specialists, painters and floor refinishers.
It wasn't long before Cohen began to receive inquiries from homeowners and contractors outside of her operating area interested in working with her company. After an article in a local paper, she also received calls from other entrepreneurs interested in launching a business like hers. She soon realized that the concept appealed to others and Cohen's business took another unique turn.
The Finishing Touch
Rather than trying to take on more business than she could handle, Cohen decided to document all of the "how-to's" of her business in a comprehensive manual so that others could duplicate her business. Cohen wrote The Complete Guide to Owning and Operating a Successful Homeowner Referral Network© and sells it to other entrepreneurs interested in launching a business like Home Remedies® in their community. Cohen also offers a turnkey HRN website package, customized HRN Management Software, a graphics CD, HRN newsletter and one-on-one consultation time for added support. To date there are more than 300 HRN's operating nationally and a few internationally.
How Much $$$ She Makes
Cohen left her career in Corporate America shortly before launching Home Remedies and money was tight. For start up capital, she took a $5000 loan from her husband's retirement savings plan and, within six months, Cohen was able to repay the loan and turned a profit. In her first year of business working approximately 15-20 hours per week, Home Remedies grossed $28,000. In year two, Cohen's HRN revenues grew to almost $90,000 and to date, her business has generated more than $4 million in revenue! Cohen says, "My husband couldn't believe it.  He says that I was the best investment he's ever made!"
The Biggest Challenge
With no construction experience and being a newcomer to the community, the actual launch of her business was the hardest part.
The Best Part
Cohen loves the sense of satisfaction she feels when she's able to match a homeowner with the right contractor for their project and at the same time, is able to help hard working, responsible contractors build their client base and businesses. She also loves the flexibility and freedom of working from home.
What's New?
The 55+ age group is now the fastest growing market segment in our country. In order to serve the needs of this growing demographic, Cohen recently launched Aging In Place Referrals to provide pre-screened contractors specializing in home modifications and universal design to the aging Baby Boomer population in her area.
"We've all heard stories on the news about senior homeowners being scammed by contractors. Aging in Place Referrals eliminates the risk of hiring an unscrupulous contractors. And the majority of the Aging In Place contractors in my network have specific Certified Aging In Place (CAPS) certification."
Cohen's Secret to Success
An armchair decorator and home-improvement buff, Debra found her niche. She advises others to "Do some soul searching and discover where your talents lie. Then, capitalize on that by creating a business that will put your abilities to work and allow you to do something you enjoy every day."
For additional info, please contact:
Debra Cohen, President
Home Remedies of NY, Inc.
Tel:  (516) 374-8504
e-mail:  debra@hrnbiz.com
www.hrnbiz.com
The post Help on the Home Front: Meet Debra Cohen appeared first on Home Business Magazine.